Training as a Service (TaaS)
making training flexible, scalable, predictable, available, affordable and easily manageable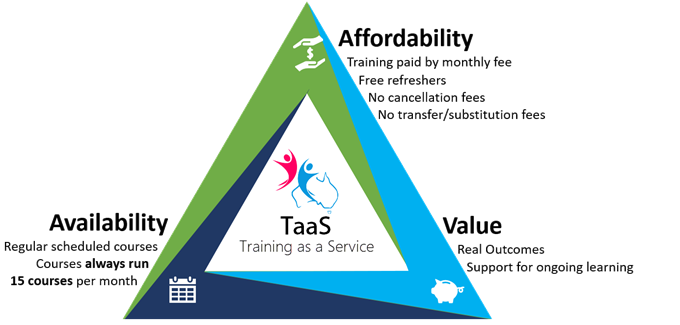 Our Training as a Service (TaaS) subscription gives organisations access to instructor-led courses that are relevant to your work when it's relevant to your work.
Staff can independently pick the most suitable course for their requirements and schedule to upskill at their own pace. 
Much more flexible than vouchers, a single fee (payable monthly or annually) gives your staff access to instructor-led workshops delivered through our live-online virtual training platform in combination with online support.  See courses available on subscription.
Live, instructor-led online training supports employees' ambitions, using hands-on practical activities to reinforce learning which will help retain and apply what they've learned.   It also provides opportunities to ask specific questions & seek assistance from certified subject matter experts.
 

Desktop Applications 

 

 The following courses are able on the Desktop Applications subscription.

   

Course Title

Essentials

Intermediate

    Advanced

Programming

 

Microsoft Office Courses

 
 
 
 
 Access 2013 / 2016 /2019 / 365
 Excel 2013 / 2016 /2019 / 365
 Office Essentials  2016 /2019 / 365
 OneNote 2013 / 2016 /2019 
 Outlook 2013 / 2016 /2019 / 365
 PowerPoint 2013 / 2016 /2019 / 365
 Power BI
 Project 2013 / 2016 /2019 / 365
 Publisher 2013 / 2016 /2019 / 365
 SharePoint 2013 / 2016 / 365
 Teams
 Visio 2013 / 2016 /2019 / 365
 Word 2013 / 2016 /2019 / 365


•




•


•
•
•


•




•


•


•




•




•




•




•

•




•







•




•






Site Owner




•

•




•




•


•




•


•



Administrator



•


•

•




•












•

 

Adobe Suite Courses

 
 
 
 
 

Acrobat ... all versions




 Captivate 2017 / 2019




 InDesign




 Illustrator




 Photoshop

•




•




•




•




•

 

•




•




 •

 
 
 

Other Courses

 
 
 
 
  Crystal Reports ... all versions
  SQL Queries
  Primavera

•




•




•

 

•




•




•

 

Subscription inclusions:

✓  Up to 100 unique participants
✓  No limit on the number of courses that a participant can attend 
✓  Training materials for each course (online manual only)*
✓  Free Transfer / Cancellations / Refresher
✓  Post Course Support
✓  Exchange for onsite/online private courses **
✓  Reduced rates for private courses
✓  Frequent reporting on usage.

*   Printed materials available for purchase.
** Onsite Travel expenses additional