Adobe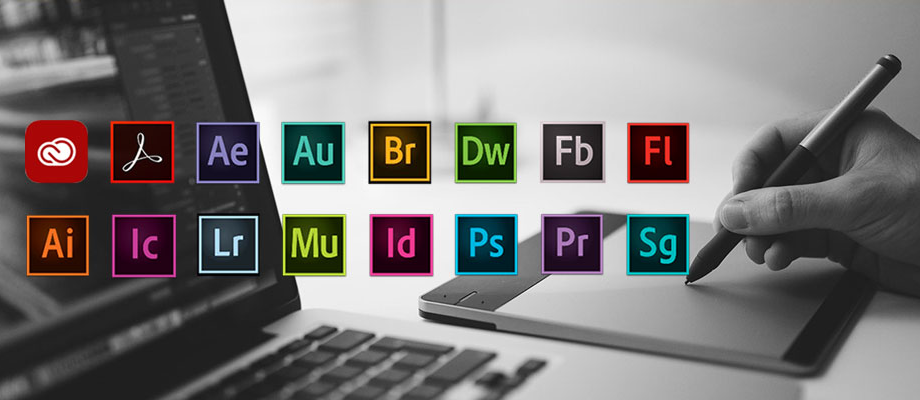 Most businesses rely of the Adobe Creative Cloud suite of applications for their creative work.   There is much to learn with these sophisticated tools and we provide courses for the most popular applications.  Photoshop is the industry standard for perfecting images and is used by graphic designers, web designers and photographers. InDesign is used to create rich digit and print documents.
Acrobat
Create AcroForms from scratch or generate native PDFs (Portable Document Format) from other document types
Captivate
Develop engaging eLearning content using this powerful authoring tool. Adobe Captivate allows the creation of user driven interaction experiences, videos & quiz solutions as well as much more for several different platforms and devices.
InDesign
A fantastic tool for creating print media -  posters, flyers, brochures, magazines, newspapers, presentations, books, ebooks, etc...
Illustrator
Vector graphics software for creating scalable graphic designs for websites, video games, brand logos, and promotion materials, print media, etc...
LiveCycle
Develop intuitive & interactive XFA forms (XML Forms Architecture) forms completely separate from Adobe Acrobat. Forms created in LiveCycle Designer are not native PDFs but can be opened for the purpose of data entry using Acrobat
Photoshop
A powerful tool for editing existing images. Typical tasks include treating and manipulation, compositing, converting to different formats, printing, etc...
Premier
Used for common video editing tasks necessary for producing broadcast quality, high-definition video.
---
Microsoft
The Microsoft Office suite of products is the premier software application used by most businesses. Improve your office productivity by learning how to efficiently use Word, Excel, PowerPoint and Outlook or develop advanced business skills in Access, Visio, Project and Visual Basic.  You will learn from Microsoft Certified Trainers who use the products every day and will share insightful tips and tricks to make your day easier. 


Access


Create functional database applications based on templates or your own custom design. 

Excel


Excel is the most widely used spreadsheet application used for data visualization and analysis.  Excel includes numerous tools to manage data, present data in charts, aggregate data using PivotTables and automation tools.

Outlook


Work efficiently with email, appointments, meetings, and tasks in the one place.

PowerPoint


Create and share dynamic presentations.  Design infographics or create learning content.

Project


Project management, scheduling, task management 

SharePoint


Document management and collaboration tool. Share and manage content and knowledge.

Teams


Teams is a workspace collaboration tool which brings together people, communication (chat & video), tasks, and files. 

Visio


Create professional diagrams and flowcharts

Word


Design and develop professional documents
---
Other
Crystal Reports
Crystal Reports is the default business intelligence software used to design and generate reports from a range of of databases. 
SQL
SQL is a query language designed for managing data held in a relational database management system.
Primavera P6
Primavera P6 is an enterprise project management tool used to plan, build, and schedule assets and control project resources.